How do you go about selecting promotional products for your company? Do you know the difference between a simple giveaway, or gift, and an actual promotion? Do you have a specific goal in mind when you select a product and do you know how successful you were in attaining that goal? Do your promotions simply give the recipient a "warm fuzzy", or do they actually provide a Return On Investment (ROI)?
Promotional Products have several names like Promotional Products, Advertising Specialties or SWAG and they can be used to
accomplish several business objectives or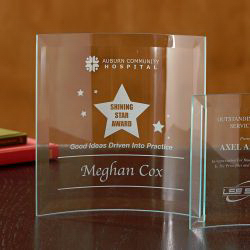 initiatives such as:
Attract new clients
Retain existing clients
Reactivate former clients
Retain employees
Recruit new personnel
Provide awards, incentives, recognition or motivation
Implement and provide incentives for Health, Safety or Environmental policies and incentives
Promote a new location, product, service, website or capability
Serve as gifts and thank yous
Promotional products can be used effectively as thank you gifts, simply to get brand awareness and as awards. There is, however, a difference between using a promotional product in this way and using it as a Promotion…
A Promotion needs to have at least these four steps: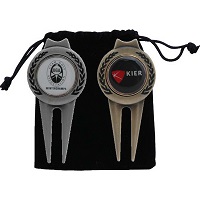 Plan
Prepare
Execute
Evaluate
It should be a well thought out and implemented process that provides a good ROI.
So, how do you ensure that your promotional product use is an actual promotion with ROI and not just a gift or award? Below are some guidelines and best practices for planing your promotion and selecting promotional products that work together to provide ROI.
---
Plan Your Promotion

The first thing that you need to do is to define a specific goal for the promotion. What do you want to accomplish, what specific action do you want the recipients to perform? That could be to request a quote or information, go to a web site, request a meeting, purchase a product, vote for you or work and act in a safer or more environmentally friendly manner.
Second, you need to have a theme around the message you are trying to convey that ties the promotion to your company. For instance; "Measure the savings" for a promotion that points to the savings obtained when using your product, or "Eliminate the Risk" to promote the safety of using your product or the risks it helps your customer avoid.
---
Prepare Your Promotion
Once you have the specific goal for your promotion and have set a theme for it,
determine who your target market is
. Are you marketing to businesses or to consumers? What are their values? Where do they spend their time? Where do they work or play? How and where do you want them to use this item? Is this a one-time, one item promotion or will there be a series of items given on a time or action basis? How do you plan to distribute the items? When will you distribute them? How many do you need? What is your budget?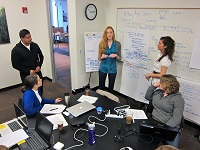 Involve a partner like Ads-Up Promotions
We can help with information gathering as well as the brainstorming session, and we can provide product information such as product options, cost and availability. We can help you avoid pitfalls and reduce risk of poor quality or unsafe items.
With all of this information in mind, you should conduct a brainstorming session, involve decision makers and others affected by or involved in the promotion. You should involve a partner like Ads-Up Promotions.
During your brainstorming session consider all of the information you have gathered. Get help from the group in selecting promotional products that will tie your theme to the promotion and to the company and that will make a good impression.
---
Selecting Promotional Products
Choose items that will:
Fit the values and lifestyle of your target market
Be used often and if possible during the time they will be making the decision to act
Last long enough to be used throughout the decision making process and preferably much longer
Be a useful and/or appreciated item that will reflect positively on your company.
Remember, if your product gets tossed in the trash or is low quality or breaks soon after they receive it then it will reflect poorly on you and your promotion will have a negative effect.
Rather than give out a higher number of poor quality items consider reducing the quantity and send only to prospects with higher probability of success (qualified), or if possible, increase your budget. If this is one of a series of items in a promotion determine how they will all work together to obtain the desired action. As you are selecting promotional products consider size and weight, especially if they are going to be mailed or shipped. As you brainstorm and plan this promotion be sure to determine how you will measure its effectiveness.
---
Execute Your Promotion
Now is the time to execute your plan. This is where you order your product, reserve a facility, register for a trade show booth, or purchase any special envelopes or shipping containers you will need. A successful promotion plan will allow for time to get the products in hand well in advance of the start date to allow for unexpected shipping or production delays. Take the time to perform a good inspection of the product, remember, this item has your name on it. If you have involved a partner like Ads-Up Promotions it should be extremely rare that you find a problem but if you do make sure to enlist their help. This is a time they can really go to work for you. They work with the suppliers on a daily basis and have much more leverage than you.
Now it's time to distribute your product through the medium determined in the planning step.
If you are shipping or mailing the item – how are you going to confirm receipt of it? However you decide to do it, make sure you have that information, once the item is out of your hands, it will be nearly impossible to know who received it.
If you are giving them out at a trade show – are you going to give them to everyone who comes by your booth, or use some pre-qualification step?
Now is also the time to prepare for the final step; evaluation. How are you going to track who you shipped or mailed them too?
Are you going to collect a business card or scan the badge of everyone who receives one at the trade show?
---
Evaluate Your Promotion
The evaluation step is an important step that is easily overlooked; it may be perceived as unnecessary. However it is essential to determine how you will track who the recipients were, and how many of them acted in the manner you planned. If you have good data on the results of a promotion, it makes the decision to not do it again, do it again or do it again with a bigger budget much easier.

Promotional Products + A Plan = ROI
For example, if you spend $200 on a promotion which results in 10 new customers worth $200 each to the bottom line of the company, and you have the data to prove that ($200 marketing investment = $1800 revenue)… how hard is it going to be to get another $200 for the same or a similar promotion?
In addition, good data can allow you to evaluate the effectiveness of the promotion, fine tune it and run it again and again with less effort and better results.
At Ads-Up Promotions we do more than provide high-quality promotional products. We are here to help you make your promotions add up to obtain the results you need.
We succeed when you succeed.
| | |
| --- | --- |
| We can help with a Complimentary Planning Session | |